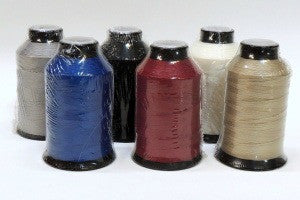 ALLOW YOURSELF ABOUT ½ HOUR TO ADJUST YOUR TENSIONS IN YOUR SEWING MACHINE INSTRUCTION MANUAL
LOOK OVER SECTION ON MACHINE MAINTENANCE
LOOK OVER SECTION ON SETTING TENSIONS CLEAN BOBBIN AREA- (FREE OF LINT) OIL MACHINE (as directed in your machine instruction manual)
MAKE SURE THREAD TENSIONS ARE GOOD WITH A THREAD AND FABRIC THAT YOU NORMALLY USE. INSERT A #18 JEANS NEEDLE (best needle for heavy fabric) WIND A BOBBIN WITH V 69 OR V 46 THREAD AND INSERT AS USUAL INTO YOUR MACHINE. THREAD YOUR MACHINE AS DIRECTED IN YOUR MANUAL WITH THE HEAVIER THREAD. Note: V 69 is the heaviest thread that will fit into a home sewing machine and is usually used for Boat Canvas. V 46 is a little lighter.
IF YOU HAVE AN EVEN FEED FOOT, ROLLER FOOT OR TEFLON FOOT INSTALL IT. There will be less slippage of the fabric with one of these feet.
Normally, any foot will work if you do not have any of the above.
Adjust your stitch length to wider stitch. I normally set it to a basting length stitch. PLACE A SCRAP OF FABRIC YOU WANT TO WORK WITH UNDER PRESSER FOOT. CHANGE STITCH LENGTH TO THE LONGEST STITCH ON YOUR MACHINE MAKE YOUR STITCH BY MANUALLY TURNING THE WHEEL. IF YOU MEET RESISTANCE STOP AND TIGHTEN YOUR UPPER TENSION CONTINUE TO TIGHTEN THE UPPER TENSION UNTIL YOU DO NOT MEET RESISTANCE. THEN MAKE FIVE TO SIX STITCHES MANUALLY AND REMOVE FROM MACHINE AND CHECK THE STITCH BALANCE. (Your machine manual will normally show you what a well-balanced stitch should look like.) IF STILL NOT BALANCED TRY TIGHTENING OR LOOSENING UPPER TENSION. Most times it needs to be tightened slightly.
Many times the best stitches a home machines will have are a nice stitch on the top and a slight loop on the bottom. Check to see if the stitch holds a seam well. If it does, it will still work to stitch heavier fabric. I try to do all my adjusting by only changing the upper tension leaving the bobbin tension alone. I have three different home sewing machines and they all need the tension adjusted with heavier thread. Two of the machines I tighten the upper tension all the way, on the other machine, which has a self-adjusting tension, I tighten less.