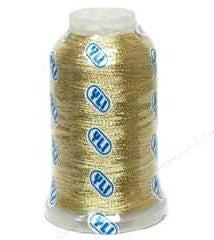 When sewing with metallic or iridescent thread, it is important to set up your machine properly. Since there are so many different embroidery machines on the market, I will be discussing a general thread set up. Your machine instructions will explain how to thread your machine and adjust the tensions.
I recommend always doing a practice design before making it on your garment or project. It seems that with metallic thread, it is often necessary to adjust your tension settings.
Start by changing your needle to one designed specifically for metallic thread. These needles have an elongated eye which allows the thread to run through it smoothly, a sharp point and a special scarf. This helps eliminate skipped stitches, splitting and breakage of metallic thread.
We offer two different metallic conventional sewing machine needles, the Schmetz Metallica and the Lammertz Metafil. Both are size 80 and work well. I have always liked the performance of Schmetz needles, hence I use them for most of my projects. However, I recommend using the Lammertz needles for lightweight fabrics. A Metafil needle is also available for metallics in a double needle and a quilting shaft needle.
If you are using metallic thread off of a cone, you will need to set up your thread so that it pulls up off of the cone and maintains tension from the cone to your machine. Maintain this tension by placing the metallic thread to the side of the machine on a cone holder. After threading the machine, place a piece of foam at the upper hook area. This prevents the thread from twisting at the eye of the cone holder or falling down the cone. Maintaining the thread in this manner prevents it from twisting or curling which may cause breakage and shredding of the metallic thread. Using a thread net or top of an old sock over the cone also helps to maintain tension, however, this is usually not needed if there is tension at the loop of the cone holder.
Next, carefully select a design. Stictches over the same location can cause the thread to shred itself and break. Metallic Thread performs better with a design that does not have a heavy build-up of thread. The use of thread lubricant, such as Sewers Aid on the spool of thread can often alleviate this problem. Thread lubricant is not recommended for use on machines with plastic or rubber tension disks.
As with any design, make sure you set up your machine properly. This includes using the proper stabilizer, checking and adjusting the tensions, threading your machine appropriately for the type spool of thread you are using and using the correct needle.
Make your sewn products look great! Use Metallic Thread as a border design, in a Satin Stitch, with double needle and docorative stitch, or accent in a quilt. For example: a vest made with the leaves and flowers outlined with metallic thread! Or a tote bag for traveling made of Cordura fabric with a monogram on the pocket in Gold Metallic Thread! Everyone will love these easy designs! So, get out that spool of metallic thread and start sewing!